She has photographed large bulls. With a camera in her hand, she is fearless.
There are great poems and songs in her photographs. The people, places and things she sees are beautiful. To her, the world is a noble, hopeful place: moving towards beauty.

Together with her husband, they form the photography team of Garner and Cowie Photography and shoot weddings. You are invited to view their work at www.garnerandcowiephoto.com. She invites you to correspond to her with any questions about her work and services.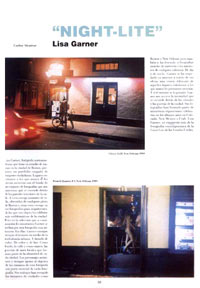 Lisa's photography in La Fotografia Actual (issue 44). Click above image to see article.